Sunday, 6/10/01 - We're Off to See Old Faithful
Without a doubt, I was on a mission to see Old Faithful. I have done very little legitimate tourist stuff since hitting the road and this geyser represented to me one of the most touristy things I could see (that and the Grand Canyon). So we drove into Yellowstone on a fine, sunny morning, not sure what we'd see.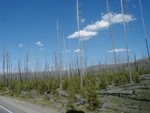 The sky was sheer blue with puffs of white clouds here and there, casting mottled shadows across the hills covered with sagebrush, tiny yellow flowers and tufts of dried grass. The landscape changed beyond each bend, as if someone let a new backdrop fall on this movie set of a national park. Suddenly there were bare, dusty white and grey tree trunks pointing toward the sky with countless fallen trees across the ground, looking like carelessly tossed pick-up-sticks. Then dense trees in patches and soaring rock, lakes and rivers shimmering and then strange, steaming and bubbling pools.
There were elk and bison roaming free, some close to the road, oblivious to our stares (or Chewie's barks). Birds glided from the sky and prarie dogs darted in front of the RV several times.
After checking in at the Madison Junction campground, we drove another 16 miles (which took about 45 minutes with the slower speed limits and winding roads) and I walked toward the site of Old Faithful as everyone was leaving. That meant another 75-80 minutes before the next geyser eruption. I walked around a little bit and then settled onto a bench, one of the first people there to see the next "show," and stretched out in the sun.
Later, a young woman sat behind me and we started to chat. Her name was Tanis ("Like Janis but with a T") and she was a student at MSU in Bozeman. Her brother and his girlfriend joined her and we all sat and waited. And waited. And waited. And waited some more.
Finally, after several false starts and hundreds of cameras rising and falling from people's faces, Old Faithful gave it her best try. Was it worth waiting for? It was less physically impressive and more exciting because it actually happened. Afterward, I followed Tanis and the others to the nearby cafeteria and had a big, early dinner of Trout Almondine, mashed potatoes and mixed vegetables.
On the way back to our campsite at Madison Junction, I stopped at all of the sites I had passed on the way down to Old Faithful such as the Paint Pot, a fumerole, some hot springs and other brilliant oddities of nature. Back at camp, I read for awhile, before heading to the outdoor amphitheatre on the campground where a park ranger gave a slide show on the relationship of the animals in the park to one another. The sun had set, a chill dropped on my shoulders, and I was glad that I had worn layers and a jacket. Behind the ranger, a small campfire flickered and glowed. That was why they called it a "Campfire Presentation."
Monday, 6/11/01 - Backtracking North
I decided, after leaving Yellowstone the way I had come and heading back toward Livingston, that I'd turn off at the yellow blinking light on Highway 89 and head to Chico Hotsprings for a dip. For $5.50, I actually only spent about 7 minutes in the steaming hot waters, but it was relaxing and a relief on my still-aching muscles from the previous days of serious walking.
Then I stopped at Meditation Point, the tiny chapel at the rest area, and sat for a few minutes on one of the six seats. After that, I headed into the heart of Paradise Valley, back to the home of Katri and Hans Nordblom.
The students hadn't yet arrived when I got there, even thought it was 3pm, the time when classes were starting. When they finally did, over an hour later, I gave an hour lecture about marketing, then we broke for dinner. The meal was an interesting chopped salad of red cabbage, comfrey leaves, onion and pickle with a beet sauce and flat, plain, dense barley bread. All natural, all homemade, all delicious.
The Berts loved the romps around the yard, about 2 1/2 acres of grassy land with trees leading to the river. We camped out on their driveway without water or electric hookups, but I fired up the propane heater for a little while and not only did it start right up (after not having been used since last year) but it warmed things up quickly and I shut it off for the night.