Monday, 7/2/01 - Leaving Jackson Behind
I must not have wanted to leave Jackson, the beauty of it all, because I went the wrong way out of town, an hour out of my way, and had to backtrack to Hoback Junction before getting onto the right road.
As I drove away from Jackson and back toward Cheyenne to catch I-25 South to Denver, I watched as the lush, sloping landscape turned stark, dry and flat. I was leaving behind land that I can call majestic, and even that word, like so many others, fail to convey how truly inspiring this part of the country is.
On the way to Jackson, I had stopped in Rock Springs, WY, but this time, I drove through Rock Springs and kept going East on I-80. The day was hot, then hotter, then unbearable, with the RV overheating a bit so I had to put the heater on which was even worse, if that was possible. I was determined to get as far as Rawlins.
Finally, I arrived late in the evening, the temperature barely dropping as the sun was setting, and I was exhausted. I ended up camping at the Presidents Campground for the low, low price of $11 and change. I had water hookup, electric and everything I needed on the RV so it worked out just fine.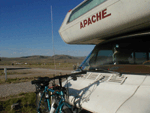 Tuesday, 7/3/01 - Back to Cheyenne
I woke up early, took a shower at the campground, then got on the road before the day heated up. I was a little worried about the RV but only had about a two and a half hour drive left before I got to Cheyenne. I had decided I'd spend the Fourth of July there.
Even though I was on my way to Denver, I didn't have to be there until the 5th, and the thought of spending July 4th in a city where I knew no one and had never been before seemed too depressing. As I approached the city limits of Cheyenne, for some reason...it felt almost like returning home. Comfortable. Warm. Safe. Very familiar. An easy place to be.
I took a chance that the AB Campground, where I'd stayed before, might have a space, and sure enough, they did, welcoming me back like a long lost friend. In fact, they gave me the same space I had been in the week before, so again it all felt so familiar, like things just fit perfectly in place.
After taking a drive to the mall to pick up a few things and then the grocery store, I returned to set up camp. I noticed that across the way, a bike was locked to a picnic table by one of the cabins. That meant that the guy I had met the other week who had invited me on bike rides - Tony - was still there. Maybe I could get him to join me on another bike ride.
Wednesday, 7/4/01 - Happy Fourth in Cheyenne
Did meet up with Tony, and we went to the reservoir. He had an inflatable kayak and after patching up a little hole, we were on the water, floating around on a hot, summer's day. For the most part, I held a black umbrella over me to shield me from the sun. If I hadn't, I would have burned, for sure.
Later, went to see the movie "A.I." which was unusual, sort of interesting, but long. Then watched fireworks which was easy to do no matter where you looked. The fireworks laws in Wyoming are so loose that everywhere you turned you'd see somebody setting off some kind of sparkling or noisemaking device. It was a beautiful dark velvet night, with dazzling lights in red, white, blue, gold, green - bursting like flowers in bloom, shimmering like stars, blazing like comets.
I was so glad I had decided to stay in Cheyenne instead of going on to Denver.